Selection of books from Gerry Wright's titles including HMNZS Blackpool to books about German raiders and shipwrecks of New Zealand.
Marine Books
The story of HMNZS Hickleton and HMNZS Santon.
The story of Lieutenant Douglas L Hazard RNZNVR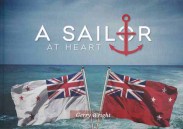 Autobiography of Gerry Wright, first 80 years.
A War by Stealth is the story of Lieutenant Walter C Drake ...
A Brief Biography of Captain John Gillies (1800-1875) by ...
A snapshot of the New Zealand Navy 20 June 1968
Gold recovery from RMS Niagara
The book FOR KING & COUNTRY By Gerry Wright. The ...
Great Barrier Island Shipwrecks published by the Great ...
This is an updated edition of Kaikoura Submariner since the ...
HMNZS Bellona was commissioned in Chatham, England, with ...
The Royal New Zealand Navy cruiser HMNZS Black Prince ...
The Government identified the need for a logistic support ...
Book compiled by Gerry Wright about the Royal New Zealand ...
HMS Puriri (1938-1941) The story of the only warship to be ...

Kiwi Bathurst Tales is a book by Gerry Wright about the ...
The Royal Navy has played a significant part in the ...

New Zealand's Great War Minesweepers 1918-1919,
The book North Sea Warrior is the story of Lieutenant ...
The book 'Operation Pilaster' is the account of the voyages ...
The story of John Reardon
A Gerry Wright book about the salvage of the Greenpeace ...

Some tales from the MLs by those who served in them.
This is an English translation of a German book written in ...